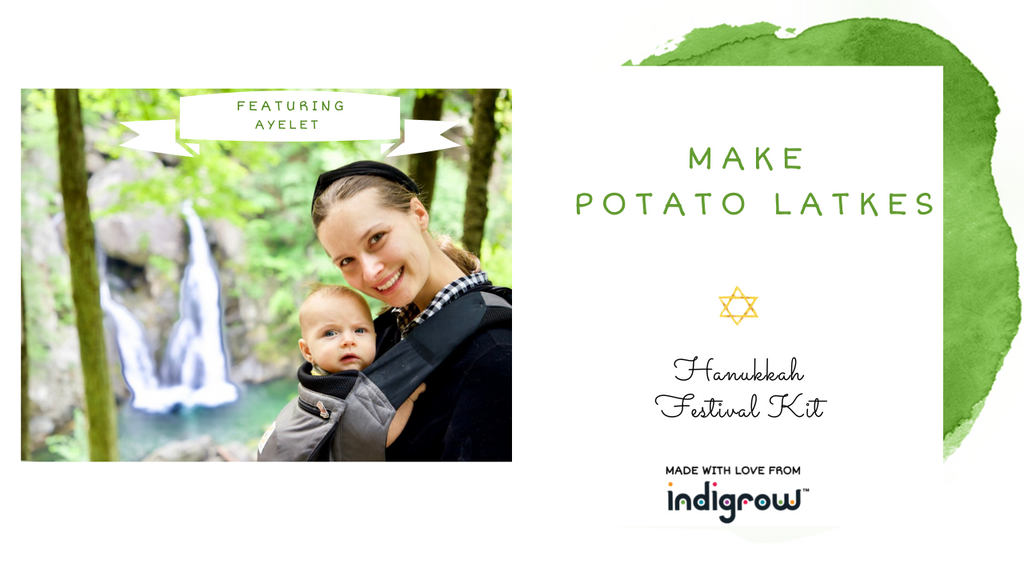 indigrow
Make Potato Latkes | Ayelet & Yitzchak | Hanukkah Recipe
$0.00 USD
Looking for a delicious, easy Hanukkah recipe for kids? Look no further!
Ayelet and her cutest little helper show you how to make traditional Potato Latkes.
So, is this a video recipe?
Yes! You will get a video that is guaranteed to make you smile. Follow Ayelet and Yitzchak step by step as they create delicious Potato Latkes. You can also download a printable with the recipe here. 

Is it really, free? How do I get it? 
It's completely free. Just add this product to cart and a file will be sent to you as soon as you checkout. That's it! The file you get will be the delightful video and the printable recipe can be downloaded here. 
Who is it for? 
Everyone! Whether you're Jewish or not, this is a lovely way to introduce a cultural festival to your little one. 
About Ayelet 
Ayelet lives in New York City with her husband and son Yitzchak. Yitzchak is 7 months old. Their family loves to travel and spend time outdoors. Ayelet shares her Montessori and respectful parenting journey on Instagram at @homeandontheway. 
Thank you Ayelet for contributing to our Hanukkah Festival Kit! We appreciate it.
Don't forget to check out the rest of our Hanukkah Festival Kit videos, songs, printables & more . They are all free, lovingly created by our community for you.