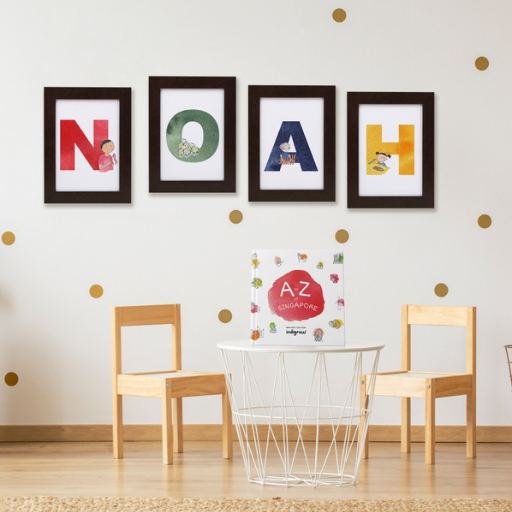 indigrow
Personalised Name Prints + A to Z of Singapore Book
$23.00 USD
The clever busy bees at indigrow created a combination of the very popular  A to Z of Singapore Playbook and Personalized Digital Name Posters. 
1. A to Z  of Singapore Playbook: A wonderful snapshot of Singapore on every page, a story in every letter, a total of 26 mini stories, this book helps your little ones explore and celebrate Singapore like never before! 
The perfect book to introduce Singapore to every child. Filled with imagination and delight this book is an informative and fun way to learn about the wonderful country! A must have for everyone who sets foot on the island!
2. Personalized Name Posters: A name is the first thing a child recognises as their own. The most important part of their identity. Help them embrace it, with these oh-so-cute  personalised name prints inspired by our characters. It is sent to you digitally, you can print it and frame it however you choose to! The gift of imagination and becoming confident with their identity early. 
 How do I get this? What does it look like? 
1. The book will be shipped to you and will arrive in 10-12 working days. A perfect 11 inches by 10 inches, ideal for a small bookshelf. Made with recyclable paper and organic ink, safe for even the littlest of hands.
2. Write the name in the "Notes" section of your order and  a custom digital poster will arrive in your inbox in 7 working days. You can print it to any size you like and use it however you want. You will find some inspiration on our instagram page. 

How best to enjoy it? 
It's designed by early childhood experts to work together. The Personalized Name Posters work together with the book. Have fun reading the book with your little one and watch as they connect the characters from the book to their name and fall in love! 
How old does my child need to be? 
 It's never too early to start! And it's a fun book enjoyed by all ages. 
Wait.. there is more! 
Don't leave before you explore our Play 'n Talk section for more free, fun resources inspired by diversity. Also follow @indigrowkids for Tips and Tricks everyday!