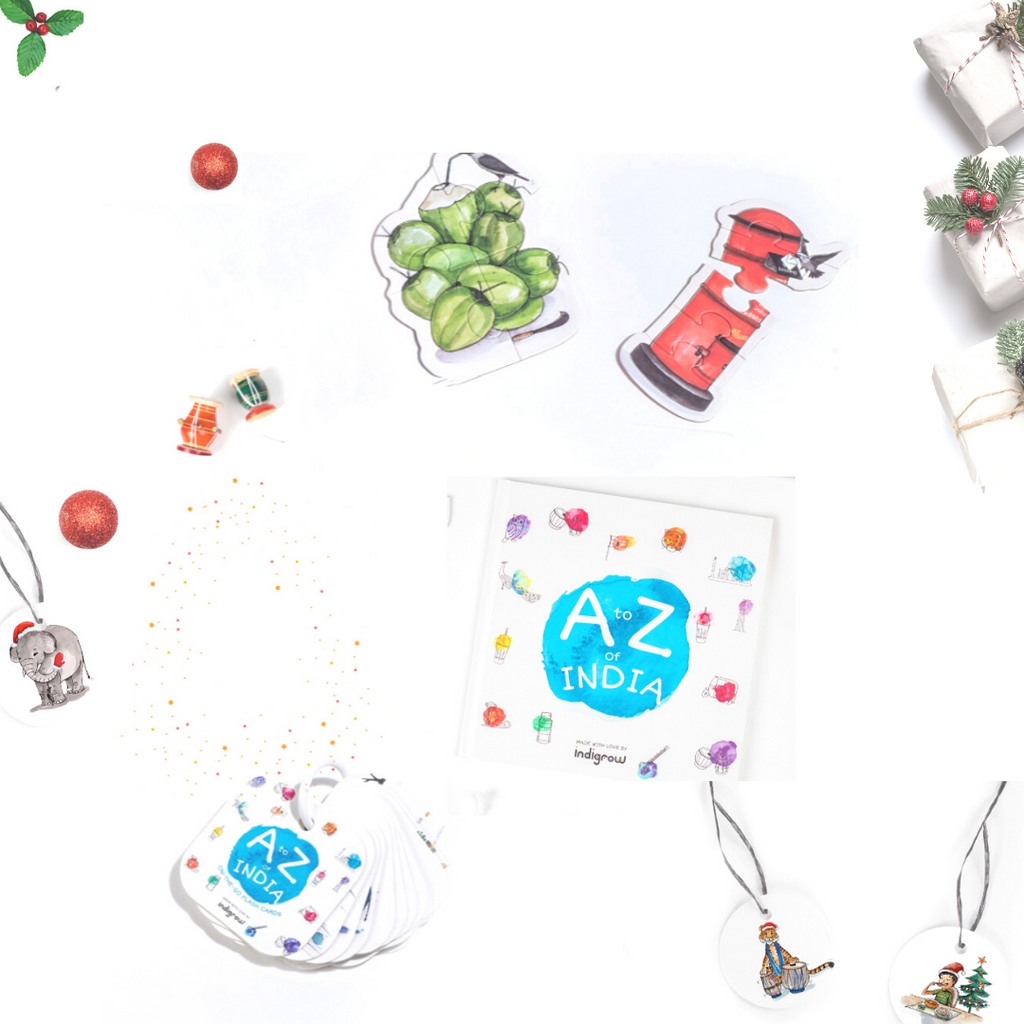 indigrow
Mini Indian Holiday Bundle|1-3yrs|
$39.00 USD $44.00 USD
You can never go wrong with this delightful Mini Indian Holiday Bundle.  Perfect to introduce any little one to a little Indian Holiday Spirit. 
So, what's in it? 3 amazing products (and something special for free!)
1. A to Z of India Storybook |All Ages|: A wonderful snapshot of India on every page, a story in every letter, this book helps little ones explore and grow with India. Take your little ones on a magical journey of India. Feel the warmth in your heart and the smile on your face as little kids start to recognise and use words that are so innately Indian. The best introduction to India! With beautiful, minimalistic, hand painted illustrations that capture the child's attention,  it is guaranteed to make you smile, laugh and come back to read it again and again. We promise. Watch the story reading here! 
2. 6 in 1 Progressive Puzzle |1-3yrs|: This is the perfect introduction to puzzle play as your little one explores the vibrant colours of India. Start with our 3 piece puzzle and work your way up towards our 6 piece puzzle. It is really 6 puzzles in one. A great deal! Our trademark hand painted illustrations divide up to form chunky pieces which fit together, giving your little one a sense of achievement every time it's completed. You know how kids get bored easily? That's the beauty of this progressive puzzle. Once you do one, the next one gets a little harder. And then your little one moves on to do the next and revels in the delight of having finished that! It's helping your child learn about India, about colours while improving spatial skills and logic. Challenging and fun! Pretty good , eh? 

3. FREE DIY Christmas Ornaments: We'll send you these adorable ornaments digitally for free! They're inspired by our delightful characters. Just print them out on card paper, punch a hole, tie up some thread and they're ready to go onto your tree! Aren't they the cutest? 
These goodies are recyclable, printed with soy ink, totally eco-friendly, and so much fun! The folks you gift this to will be raving about you for months to come. You'll see.
P.S: Obviously, it's better to buy the bundle - it's more value for money than buying individual items. Think of this bundle as a gift to last for the next 3-4 years! 
This is going to be so memorable for the little ones you love. So, what are you waiting for? Let's spread the Christmas cheer, with an Indian twist.  These are on for a limited time only, so please hurry!