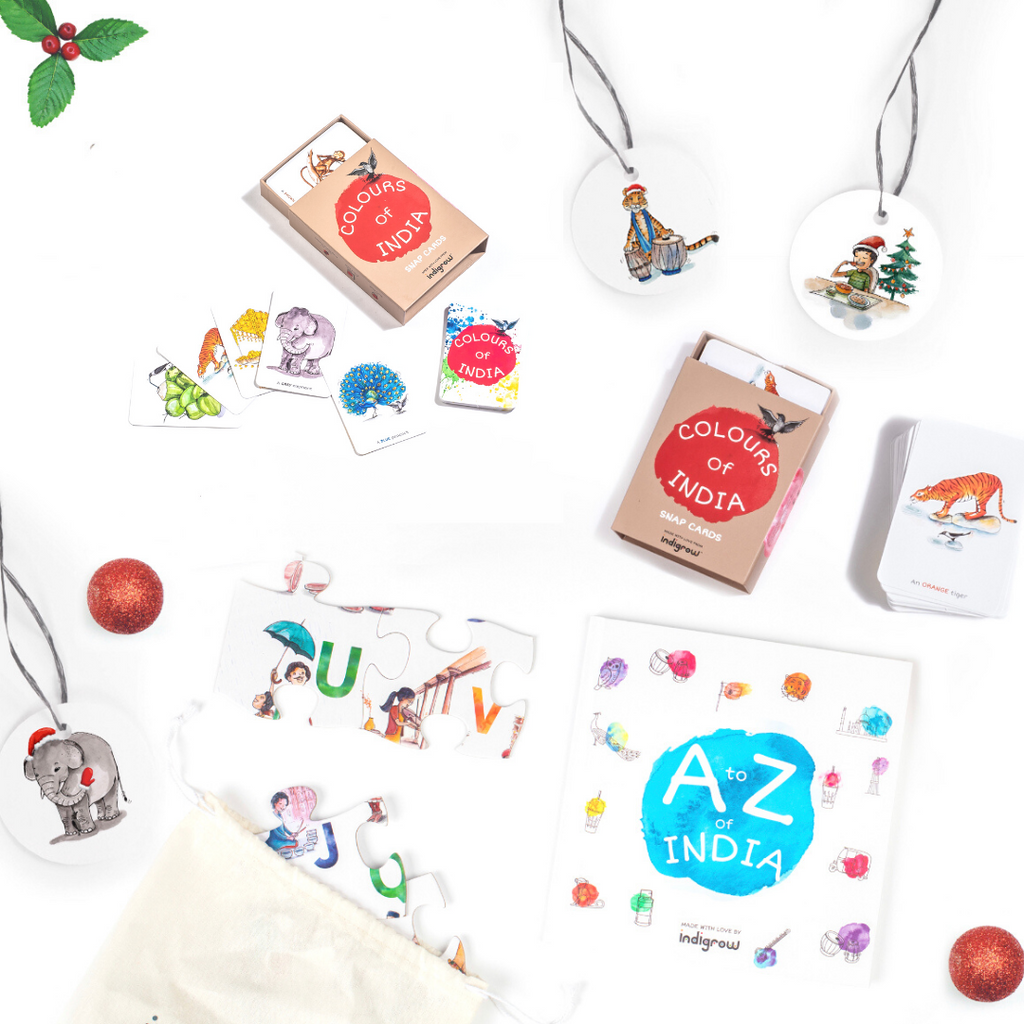 indigrow
The Big Indian Holiday Bundle|3-6 yrs|
$49.00 USD $58.00 USD
Holiday gifts don't get better than this! Thoughtful, value for money & delightful! 

This Holiday Bundle has 4 oh-so-cute products to make playtime and bedtime a little more Indian & a whole lot more fun! 
Here is what you'll get: 
1. A to Z of India Storybook |All Ages|: A wonderful snapshot of India on every page, a story in every letter, this book helps little ones explore and grow with India. Take your little ones on a magical journey of India. Feel the warmth in your heart and the smile on your face little kids start to recognise and use words that are so innately Indian. The best introduction to India! With beautiful, minimalistic, hand painted illustrations that capture the child's attention,  it is guaranteed to make you smile, laugh and come back to read it again and again. We promise. Watch the story reading here! 
2. A-Z  of India Giant Floor Puzzle |2yrs+|: This matching GIANT Floor Puzzle is a GIANT amount of fun!  It matches with the book, as each character fits into each other to create a chunky 36 piece puzzle. Encourage patience and spatial logic while having fun with India!  
3. Family Snap Card Game |All Ages|: Ah! This one is so much fun! Delight in the vibrant colours of India as you shout "SNAP" in this fun, loud, fast paced game for the whole family. Deal the 60 cards equally & take turns to place cards open down in the centre. Remember, don't look at your cards until you put them down. Be the first to shout "SNAP!" when any player places a matching card on the top of the pile and collect the whole pile. First one to collect all cards wins! This is loud and fun and noisy! Yay! Best way to liven up a dinner party. You can also make up your own rules. 

4. FREE DIY Christmas Ornaments: We'll send you these adorable ornaments digitally for free! They're inspired by our delightful characters. Just print them out on card paper, punch a hole, tie up some thread and they're ready to go onto your tree! Aren't they the cutest? 
These goodies are recyclable, printed with soy ink, totally eco-friendly, and so much fun! The folks you gift this to will be raving about you for months to come. You'll see.
P.S: Obviously, it's better to buy the bundle - it's more value for money than buying individual items. Think of this bundle as a gift to last for the next 3-4 years! 
 These are on for a limited time only, so please hurry!