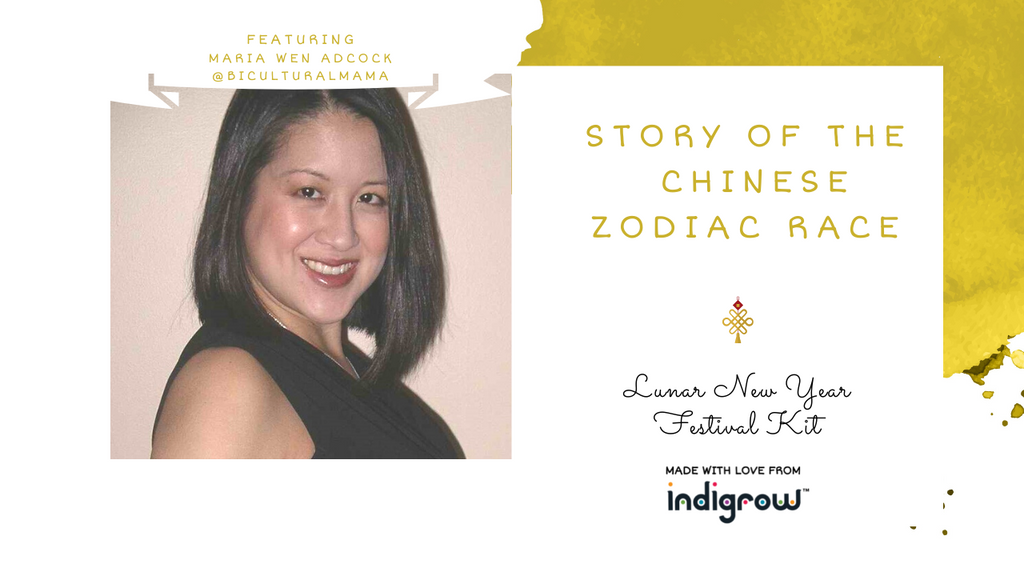 indigrow
The Chinese Zodiac Race Story | Maria Wen Adcock |
$0.00 USD
The story behind a festival is as important as the festival itself. In this video the wonderful Maria Wen Adcock tells the story behind the Chinese Zodiac Animals and the race to decide the order. 
So, what do I get? 
You get a delightful video with a beautiful narration of the Story The Great Race: The Story of the Chinese Zodiac. She narrates it in a relatable, charming way, making it easy for kids & adults to understand. It's all you are ever going to need to explain the origins of the Chinese Zodiac symbols and animals to your kids. 
How do I get this? 
Just add this product to your cart, and you will be sent a download link to the video and instructions within 24 hours. 
Wait, is it free? 
Yes it is! We love to create & curate and this has been put together with love by members of our community. Authors, story tellers and clever moms have put this together for you. So, enjoy and spread the love. Please do share and pass it along! 
A little about our creator Maria Wen Adcock
Maria Wen Adcock is the founder of the award-winning multicultural parenting blog, BiculturalMama.com. She has appeared as a guest on The Dr. Oz Show and Bloomberg News and has written for The Huffington Post and other media outlets. A passionate supporter of diversity, Maria is a Board Member and Supervisory Editor of Multicultural Kid Blogs, an organization with 200+ diverse global parenting bloggers. In Fall 2022, her debut children's book It's Chinese New Year, Curious George! will be released by Clarion Books, an imprint of Harper Collins. Follow Maria on Twitter, Facebook, Instagram, and Pinterest.
Thank you Maria for creating this for the community!
Don't forget to check out the other activities in our Lunar New Year Festival Kit!