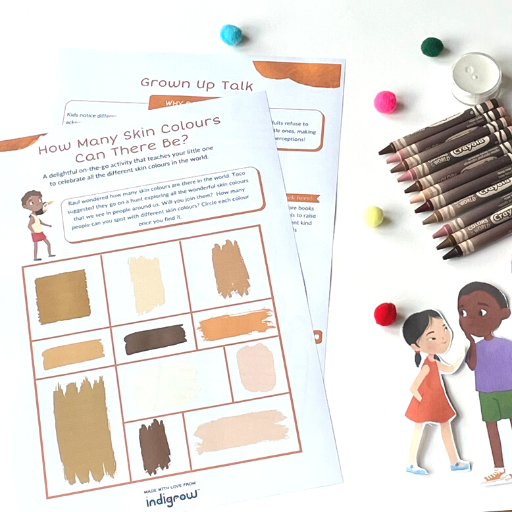 indigrow
All about Skin Activity Set
$4.00 USD
So, what is the Skin Colour Activity Set, you ask? 

Do your kids have questions about skin colour? Their own or someone else's? Here are a set of delightful printable activities that are zero prep to help you have this conversation with your kids.
How are the activities designed? 
Powered by play and backed by child science all activities in our Diversity Play Lab are designed by early childhood experts at indigrow. But make no mistake, these are no ordinary "worksheets". Those are boring! 
These are oh-so fun printables, art & craft activities, science experiments and more. 
The themes we picked are the most common questions kids ask as they notice differences in how people look, especially in their early years. 

" Why are some kids skin darker?" 

" How many skin colours can there be?" 
" Why can't brown or black girls be princesses?" 
" What's wrong with her skin? " 
Each play activity has two parts.
1. The first part is a delightful play based activity - a science experiment, art or craft activity.
2. The second part is for grown ups, where we give you facts and actual phrases, to empower your kiddo so they can be prepared and culturally aware. 
How do I get it? What does it look like? 
You just add it to cart , you will receive a link to all the pdf's in 24 hours. Open them up and enjoy them in your own time. 
How best to enjoy it? 
All it takes is 2 mins!  So weave it into your everyday life. Use a printable, get out the crayons and have a cup of tea as your little one has fun.
Have a little conversation that will make a big difference in their lives. 
How old does my child need to be? 
We recommend all activities in the Diversity Play Lab for little ones 3-8 yrs old.
Do I need to be raising a mixed race kid or be an expat to enjoy this?
Absolutely not! This is made for anyone looking to raise a little global citizen, to open minds and nurture confidence and kindness. It is a way to celebrate differences and similarities in a fun and delightful way. We are all living in an increasingly multicultural world and our kids are dealing with physical, emotional and cultural differences as early as preschool - this is a great first step to develop their emotional and cultural intelligence.
Wait… there is more! 
Don't leave before you explore our Play 'n Talk section for more free, fun resources inspired by diversity to raise culturally aware, confident and kind kids! Also follow @indigrowkids for Tips and Tricks everyday!