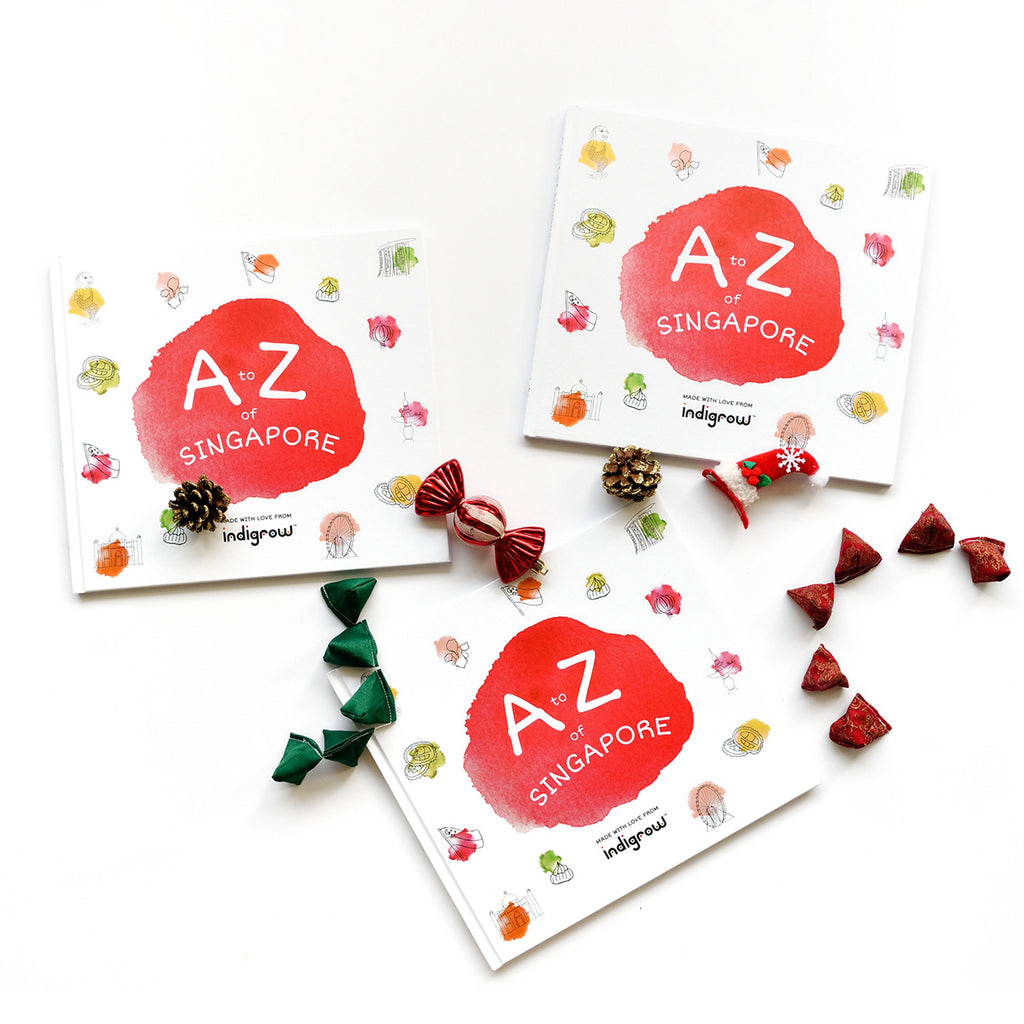 indigrow
Singapore Gifting Book Bundle
$35.00 USD $39.00 USD
What's better than 1 Singapore Culture Play Book? 3 delightful Singapore Culture Play books! This year, gift something unique, fun and thoughtful. 
What comes in this Bundle? 
3 x Singapore Culture Play Books at a discount of 10% 
Free Singapore inspired Christmas printable ornaments
What's the Singapore Culture Play Book, you ask?
It's way more than a book! It's over a 100 play sessions.
A wonderful snapshot of Singapore on every page, a story in every letter, a total of 26 mini stories, this book helps your little ones explore and celebrate Singapore like never before! 
The perfect book to introduce Singapore to every child. Filled with imagination and delight this book is an informative and fun way to learn about the wonderful country! A must have for everyone who sets foot on the island!
How best to enjoy it? 
That's the beauty of it! It can be enjoyed in limitless ways. Spark imagination by asking your little one to complete the story on a page they like. Ignite creativity by using playdough or crayons to recreate the yummy food shown in the book. Talk about diversity by asking questions about different characters and the festivals they celebrate. Develop critical thinking by opening up an simple map and ask your kids to plot the places shown in the book. An open ended book, based on learning through play - this is a whole lot of fun! 
FREE DIY Christmas Ornaments: We'll send you these adorable ornaments digitally for free! They're inspired by our delightful characters. Just print them out on card paper, punch a hole, tie up some thread and they're ready to go onto your tree! Aren't they the cutest? 
How old does my child need to be? 
Ah! It's never too early to start and never too late to stop. It's suitable for kids and adults of all ages.
What does it look like, really? 
A hard bound book with beautiful, hand painted images that leap out from soft pages. A true collectible item, this book is a nice size for all ages. A perfect 11 inches by 10 inches, perfect for a small bookshelf. Made with recyclable paper and organic ink, safe for even the littlest of hands. The Christmas Ornaments inspired by our characters will be sent to you digitally. 
P.S: It even has a fun facts section right at the end! 
 Are you ready for a Singaporean Christmas? Yes, you are!