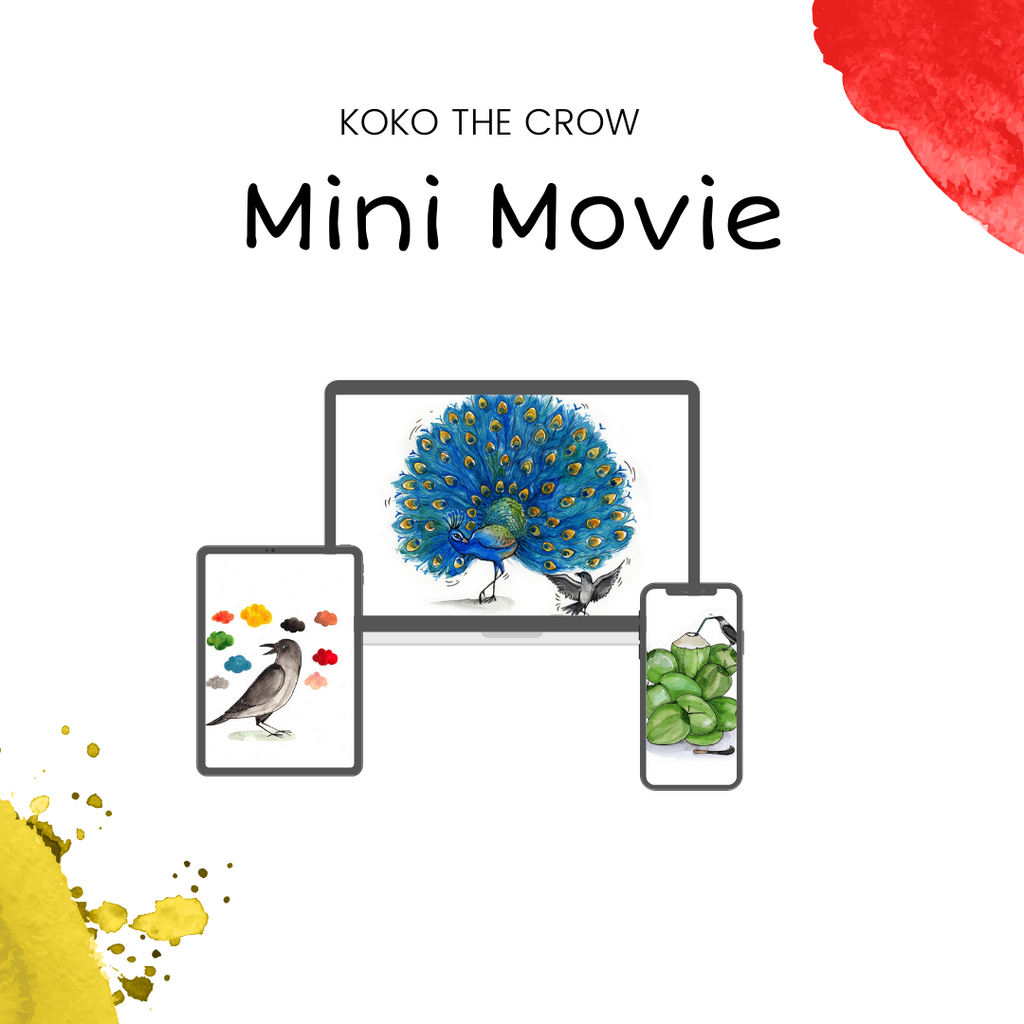 indigrow
NEW Free Animated Mini Movie |2-6yrs|
$0.00 USD
What is Koko the Crow - An Animated Mini Movie ? 
Say hello to Koko the Crow — in motion! That's right. Koko the crow stars in his very own Mini Movie. How wonderful is that? With melodious music and delightful narration, this is an absolute must have in your pocket and a definitive first pick for screen time. You've seen the trailer above? You like it? Then don't wait! 

What does it teach my child? 

This adorable Mini-Movie teaches kids about: 
Colours: This brings to life 10 colours in a simple, engaging way as Koko the Crow explores India. 
Culture: The beautiful Indian imagery, inspired by our books, make your child fall in love with different aspects of Indian Culture, very naturally. 
Comprehension: This video has been designed to improve vocabulary, language, overall comprehension & understanding. The sound and visual aids help kids develop these skills. 
How old does my child need to be? 
Your child has to be between the ages of 2-6 yrs old. We do not encourage kids under 2 yrs old to interact with the screen except for supervised video calls with family and friends. 
Is this child safe? 
This movie is under 6 mins, the recommended length of time for a child to watch the screen in one go. 
Created with principles of E-AIMS in mind. It is Engaging, Actively Involves the Child, is Meaningful and Social.
Created based on the research and guidelines of LEGO foundation, AAP (American Association of Pediatrics) and early childhood organization Zero to Three. 
Adds to a holistic experience along with our books & games (See how best to enjoy this video below) without taking away from the physical development of your child. 
Why we created it?
This is indigrow's first digital product created with immense amounts of thought & care, in a way that's right for your child. As you know, at indigrow we believe in creating a culture play universe for your little ones. That's why our books, games, puzzles and songs all match - allowing kids to get curious, imagine and have conversations.  All the while learning through play. 
Today there is no running away from technology, whether we like it or not. So when we decided to go digital, we wanted an indigrow spin on it. Based on child science, we found a way to use technology in a way that's right for the child. 
How will I get it after I add it to cart? Is it really free? 
Yes it is completely free! A viewing link will be sent to you within 24 hours of purchasing this product online.
How best to enjoy it?
2-4 Yrs  : Pair it with our 6 in 1  Progressive Puzzle for a wonderful all round experience for your little one. 
3-6 Yrs   : Pair it with our Family Snap Card Game for a phenomenal imaginative and fun experience for your whole family! 
Enjoy watching!